Hi! Yes I'm still here.
I'm just a tad busy with my clinical placement.. and the freaking pimple which grew on the top inner portion of my right eyelid. It is where you would tightline your eyes.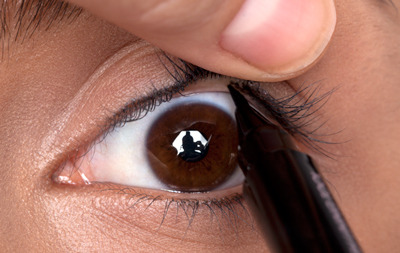 Tightlining the eye
Yes I know it is a weird place for a pimple to grow, and the even weirder thing is.. I DON'T EVEN TIGHTLINE MY EYES!!! So I have no freaking idea why or even how a pimple could grow there.
Initially I thought I had an eye infection or something? But I went to the doctor's this afternoon because my right eye became too disturbing and uncomfortable, and the doctor gave me a diagnosis of
PIMPLE
.
I've got pimples on my cheeks, on my forehead, on my eyebrows, on my nose and on my back.. but on my eyelids?? This is a first!!!
See that little pus near my eye? That's my weirdass pimple!
It is painful and also annoying because my eyes are now swollen. It all started yesterday and it got worst this morning when I woke up. What started out to be a dull aching pain which would only be obvious when I touch my eye, has become an aching pain which acts up every time that I blink my eye.
Right now it feels as though someone gave me a punch at my right eye and I look like half of a raccoon (well minus the black eye part)
Who you talking about? Me??
The doctor prescribed me with two kinds of eyedrop. One of them is in a liquid form for me to wash my eyes, whereas the other is more viscous and I'm suppose to rub it on my pimple (FYI which is a very challenging thing to do!)
Am I the only one in the world who has pimples growing in weird areas????
I'm still trying to get over this stupid pimple. And the cost to see a doctor on a Sunday.
I went to the nearest 24 hours clinic from my home because I knew that the usual GP clinics that I got to closes at 12pm on Sunday and I woke up at 11am today. I wouldn't be able to rush there in time because they stop registering patients 30-45 minutes before the closing time
*angry face*
So anyway I went to the nearest 24 hours clinic and... lo and behold!!! I walked out of the clinic once I saw their consultation price list. To see a doctor from 1-6pm on a Sunday costs
$45!!!!!
(excluding medications, GST and any other external costs)
FREAKING OUTRAGEOUS PRICE!!!!!
Anyway luckily for me, there was another private GP clinic (name: Banyan Clinic) next to the 24-hours clinic which was still opened.. I went there to seek medical attention for my right eye and the costs were so much more reasonable. $32 consultation fee, $15 for my meds.c
Luckily I went next door to check out the other clinic, or I would have burned a hole in my wallet just for a freaking stupid pimple.
Well actually I did burn a tiny hole in my wallet, not for my right eye (thankfully not!) but for something which was a lot more worthy!!!!!!
I discovered a flea market when I was walking towards the clinic. The flea market was held at the void deck, under some block of flats, and it was mainly for residents who stayed in the vicinity.
The items sold there were mostly secondhand goods that ranged from old photo frames to accessories, clothes and shoes. Some of the items sold there were brand new too, still in their packaging. Most of the new items were accessories or squishies.
For the purpose of your understanding, these are "squishy".
This is the RAGING HOT! thing amongst primary/(?)secondary school kids now. I don't understand what is so fab about these weird bread-like 'thingys' but okay.. I've been through that era where things don't make sense and they are popular
JUST BECAUSE
. And so, I rest my case.
There were also handmade items for sale, just as flowers and bracelets.
But the thing which really caught my eye were....
THESE POLO TEES!!!!
My eyes literally became the size of fishballs (yes even my weirdass pimple right eye) when I saw these, and I dashed towards them!!!
From left to right, top to bottom: Tommy Hilfiger (male), Timbaland (male), Yves Saint Lauren (female), Polo Ralph Lauren (female), Abercrombie (female).
All of the tees, except for the Polo Ralph Lauren one, costs $15 each! The lady stall owner sold the Polo Ralph Lauren to me for $10 because of a slight stain at the button area.
I know you are gonna say that these must be fake because they are so damn cheap, but I don't care!!!! Let me tell you why:
THE QUALITY IS DAMN GOOD
IT FEELS SOFT TO MY TOUCH
THEY DON'T LOOK FAKE TO MY NAKED EYE
I'M A STUDENT WITH A TIGHT BUDGET
AND THEY ARE DAMN CHEAP!!!! LOL
FOUR
perfect reasons WHY!!!
I have no monies to buy the authentic goods now so I'll make do with the fake ones first lah! When I have the
$ka-chink ka-chink$
, I will get the real ones and then show off to you all again, okay?? LOL
I don't live for brands but I wouldn't deny that I prefer branded clothes sometimes because
usually
the quality is better and the cutting is slimmer and smarter. Days that I do not prefer branded clothes are when the tags on them reveal prices which are unfriendly to me :(
Anyway this is what I have to share about this weekend of mine!!
Bye!
Hearts,
Soph