Hello!!!
I've decided to be a little bit more diligent by updating this space a tad more often. Which kinda explains why this post is being written right now, and it will be my second upload within a week!
AH-MAZINGGGGGGGG! (I know)
I used to find it a bit of a chore to write a blog post because I was so bent on having every word and picture being really professional and perfect.
But then, I realised that.. it was because of that very reason which started to deter me from blogging so often because the words were not really "mine" anymore. I started to care so much about writing beautifully instead of writing successfully.
Ok, by this point, many of you are confused by the instead of thing. A couple of weeks ago, during an interview, the interviewer asked me a deep question (which was one of my interview questions by the way):
"Tell me, what is the difference between a good writer and a successful writer?"
I was stumped when I heard that question. Like c'mon! It was one of those mind-boggling, philosophy-like questions!!!
But anyway, I managed to answer it and.. MY ANSWER WAS CORRECT!!
YAY! \o/
So, my answer for that question is this:
"A good writer has a good mastery of the English language. He/she can write about a product beautifully, like a piece of beautiful artwork.

A successful writer on the other hand, might not have a good grasp of the English language, however he/she is able to describe and write about a product in such a way that after the audience has read his/her piece of writing, the audience would think 'Oh! This product is really damn good! I must get my hands on it!!'. A successful writer is able to engage with his/her audience on an intimate level, to understand the needs of the audience, to be a friend to the audience and to have the audience as his/her friends. A good writer will not focus on having writing perfectly, but will focus on writing successfully. And the success is based on how well the writer has managed to engage with his/her audience."
Now, that is what I want. To be able to engage with my audience (aka, all of you guys) on an intimate level. I don't wanna write perfectly beautiful pieces that will make you guys feel like I am Picasso or Michaelangelo!
I just wanna be a nice and funny friend to all of you!
And hence, enough with my jibber jabber! Here are some pictures to lighten up this post and hopefully make all of you salivate and have your tummy rumbling with hunger (or maybe, greediness?)
Soup of the Day - Cream of Mushroom
I had lunch with le Homie, Adeline, at
The Manhatten FISH MARKET
yesterday.
(While I waited for my food for about 30 minutes, I was staring at the reflection of the restaurant's signage, and I swear that it is written like that. Caps and all.)
Fried Country Mushroom
They were having a one-for-one starters promotion so obviously, we couldn't miss out on it!
This is Adeline's choice of starters, and I managed to get one bite and oh my god! It was sooooo good!! This is gonna be my choice of starters when I go there the next time! The mushrooms are white buttons mushrooms! If you are a mushroom fan, you don't wanna miss out on this!!
Crispy Whitebait (with cranbery salad)
I am a boring person who prefers to go for the things that I know I already love. I know, I'm not much of an adventurer but I am sometimes! But it is only when I am forced to make a new choice only because the old choice sucked or that.. I am only left with new choices.. :P
Anyhow, although I love crispy whitebait, I find it better with caesar salad and honey mustard sauce. The combo of crispy whitebait and cranberry salad was not only a little weird.. it masked out the delectable taste of the crispy whitebait! A total shame, if I must say.
Therefore if you wanna try crispy whitebait at Manhatten Fish Market, go for the caesar salad, pick honey mustard sauce as your salad dressing and add crispy whitebait as your topping! That combo will blow your mind away and it will be a great start to your meal!
Spicy Baked Fish
Okay, this dish is really really spicy!
I only order it because of my usual tendency to go for the baked fish + butter rice combination.. it is less oily as compared to all the other deep fried dishes.
With that being said, I'm not saying that I hate deep fried stuff! I love
Shilin's fried golden string mushroooms
(NEW ON THE MENU! Go try if you haven't!! Super awesome!!!) and
sweet potato fries
(I prefer the old one where the fries are thinner and less chunky)!!
Country-style Fried Chicken
Adeline's order for her main.
According to Adeline, this is bad. Well, I didn't try it but from the looks of it, I would say that they might have over-fried the chicken? I have never tried it before nor have I ordered it before so I am not sure how the fried chicken is suppose to look like... but to me, the bits of blackness here and there looks dubious. Might be just the spices though?
Other than that, the mash potato was alright. It is the usual
powder + water
mash potato formula. They added garlic though so there is a hint of garlic in it!
Oh and, FYI for the chicken breast meat haters, you might wanna stay away from this dish because the piece of fried chicken is chicken breast meat.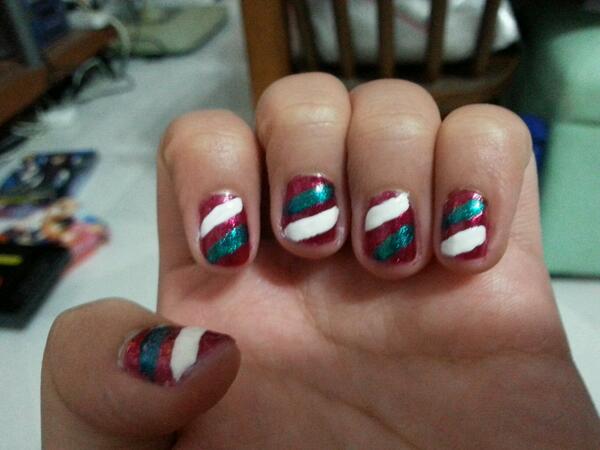 Super festive Xmas nails!
And after all the eating and slight bit of shopping, Adeline came back to my house where I did her nails for her!
I'll admit that this isn't one of my best nail art designs. In fact, it is so far away from "good". But oh well, it is super festive and Christmas-y!
Oh yeah, it is Christmas tomorrow!
So here is a
SUPER
HAPPY
MERRY
CHRISTMAS
to everyone!!!
Remember to hang up all your socks tonight, or no presents from Santa! (Who am I kidding?)
XO,
Soph <3