MINERAL 89 is the latest product to be released by VICHY, and is flying off the shelves quickly at all leading pharmacies! I went into Watsons to purchase some travel necessities with my mom (before I flew to Bangkok) and saw a lady buying
THREE
bottles in one go.
I am not all surprised by her bulk purchase because this hydrating thermal water moisturiser is one of the BEST that I have tried thus far in 2017. Even I tried to egg my mother to get a bottle for herself because it is that good! Wanna know more about this new and amazing Vichy MINERAL 89? Keep reading on!
| What is it
Vichy MINERAL 89 is a serum that contains 11 ingredients and 89% of Vichy's pH Balancing Thermal Water – drawn from the depths of French volcanoes – which is rich in 15 essential minerals capable of strengthening our skin's natural defences.
In addition, the serum contains an extra-pure natural origin hyaluronic acid that further improves our skin's barrier and protects its integrity against urban and environmental aggressors.
| What can it do
The all-new Vichy MINERAL 89 works on various of our skin's barrier functions:
THE PHYSICAL BARRIER

Mineral 89 gives a more robust physical barrier to our skin by providing a boost to corneocyte adhesion. Hyaluronic acid in the serum forms a protective surface film and stimulates keratinocyte (a predominant cell type in the outermost layer of our skin) synthesis, while Vichy pH balancing thermal water stimulates the synthesis of proteins responsible for the barrier function's integrity.


THE HYDRATION BARRIER

By reinforcing cellular adhesion, Mineral 89 reduces transepidermal water loss and associated dehydration. As a hygroscopic molecule, hyaluronic acid can help to bind and hold onto water. On the other hand, Vichy pH balancing thermal water aids in the stimulation of synthesis of aquaporins and proteins which are responsible for the flow of water between cells.


THE ANTIOXIDANT BARRIER

Vichy pH balancing thermal water activates the skin's anti-free radical defences, including the synthesis of enzymes such as catalase, SOD (Superoxide Dismutase) and glutathione peroxidase, which helps to protect the skin against free radical attacks.


THE ANTIMICROBIAL BARRIER

By improving on the cohesiveness of the corneocyte network, Mineral 89 reinforces the skin against the invasion of pathogen agents. Vichy pH balancing thermal water aids in the improvement our skin's immune defences and rebalances its pH.


THE PHOTOPROTECTIVE BARRIER

A reinforced barrier limits the impact of UV on skin. Hyaluronic acid brings soothing properties to the skin when aggressed. Vichy pH balancing thermal water increases the synthesis of anti-oxidant enzymes, even when our skin is exposed to UVA and helps in the stimulating skin regeneration.


| How to use it
There are two parts to applying the Mineral 89:
ACTIVATING THE SERUM
Dose: Apply 2 pressure pumps onto fingertips
Tap: Back and forth patting motions to activate microcirculation and evenly distribute all over face
Massage: Spread in upward smoothing movements, from inside of face to the contours
REPLUMPING WITH "8 & 9" GESTURES
Open features with the "big 8": Alternating upward motions over each half of your face. Repeat three times.
Open eyes with the "little 8": Circulate around the eye with index and middle finger. Repeat three times.
Relax the "big 9": Draw a "9" with the side of index fingers, along each half of the face.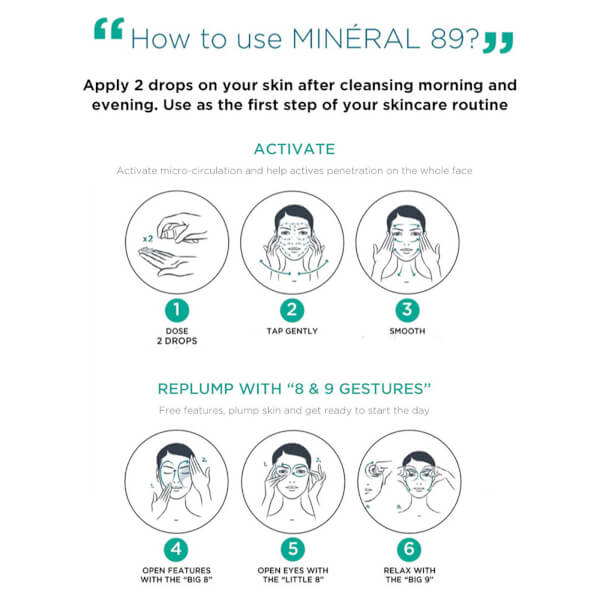 | Where to buy it
Vichy Mineral 89 is being retailed for $62 at all leading pharmacies such as Watsons, Guardians, Unity and selected hospital pharmacies.
Alternatively it can be directly purchased from Vichy's store on
Lazada
at 20% off (discounted price: $49.60)
| Review
Price:
$49.60-$62 (depending on where you get it from)
Rating:
4.9/5
My two cents:
This is my favourite moisturiser at the moment, and has found a secure spot in my daily skincare routine!
Through instrumental measurements, test results have shown that mineral 89 can indeed help to strength our skin's barrier function and reduces trans-epidermal water loss. It hydrates and protects our skin for 24 hours, improves the skin's biomechanical properties and the skin's tonicity and elasticity.
52 women, with all sorts of skin types, were tested over a duration of 4 weeks. Here are their results:
94% claimed that their skin appears more luminious after the trial
87% reported that it has a healthy glow and it looks healthier
85% noted that their skin seems smoother
83% shared that their face looks replumped
If I were to be one of the test subjects, I would have a part of in all the claims mentioned above because this product is THAT GOOD!
Vichy Mineral 89 is one of the most fuss-free beauty products that I have tried thus far, produces instant results, feels light on the skin and it makes me keep wanting to go back for more. I love that it does not have any funny fragrance in its formula and it gets absorbed into the skin so quickly.
I usually apply it before I sleep and after I wash my face in the morning. My skin has since then appeared a lot clearer, healthier and hydrated. It is definitely suitable to be used daily in Singapore's humid climate and does not leave any sticky feeling behind.
Do remember to check out Vichy's store on
Lazada
because the same bottle is sold at 20% cheaper and if you are a
LiveUp
member, you get to enjoy 5% rebate and FREE delivery!